Search
The Group
Champs à renseigner
Texte
Axereal is a leading agricultural and agri-food cooperative group, present in France and internationally, collecting grain and specializing in the processing of cereals for the malt, milling and livestock markets.
Axereal collects and valorizes 4.5 million tons of grain, brings together 12,700 farmers and nearly 4,000 employees, and has a turnover of approximately 3 billion euros.
Champs à renseigner
Image standard
Actor of the agricultural and food transition
Champs à renseigner
Texte
Our mission: to add value to the agricultural production of our region's farmers by developing sustainable and competitive industries and by creating value throughout the agri-food chain, from producers to consumers.
Our ambition: to contribute to the development of a quality food supply, by positioning ourselves as a major player in the agricultural transition.
Axereal develops its agricultural activity in the heart of one of the major European cereal-producing regions. The territory covers 16 departments. 
The Group model
Champs à renseigner
Texte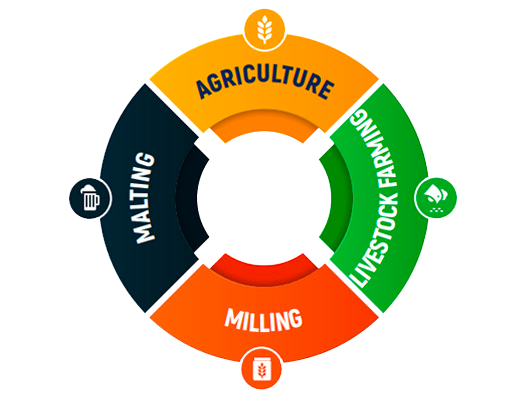 Firmly set on the path towards sustainable growth, Axereal is more committed than ever to serve its farmers, its customers and consumers.
Despite the numerous disruptions we have faced over the past year (due to the coronavirus crisis and challenging weather), the cooperative model continues to demonstrate its relevance.
Strategy
Champs à renseigner
Texte
Despite all the hurdles the last year has brought, our cooperative model has demonstrated its strength and its ability to adapt. The Group is now structured as two divisions, Agriculture & Processing Channels on one hand and Malting on the other, and we continue to pursue sustainable growth as we support the agricultural and nutrition transition.
Champs à renseigner
Texte
In today's increasingly fluid and uncertain environment, what are Axereal's ambitions?

Jean-François Loiseau:  In a spirit of collaboration, we are pulling together and working continuously to produce safe grain in quantity and add value as we pass it on to our customers in France and across the world by adapting to their needs and to changes in consumption habits amplified by the pandemic. This ability to adapt our model is an integral part of the Axereal philosophy, and as a Group we are committed to respecting the land and the men and women who work on it. Consequently, we aim to grasp all the opportunities with the potential to open up new future markets for our cooperative members.
How have the teams come through the last year?

Paul-Yves L'Anthoën: The dedication shown by our staff has been exemplary and outstanding, and we really must congratulate them for that. They have adapted to this unprecedented time and brought the business to high levels of performance that meet our customers' expectations, despite the limitations imposed due to the pandemic
Image standard
Citation
 We want to make Axereal a catalyst for a shift towards sustainable agricultural models.
Infos citation
Jean-François Loiseau, Chairman, Axereal
Champs à renseigner
Image standard
Texte
What is your evaluation of the year 2020-2021?

PYL: In addition to the 10% fall in the global beer market during the pandemic, the 2020 harvest matched 2016's historic low. So we've suffered two bad years in the last five! Nevertheless, our Group has not wavered from the sustainable growth trajectory it is following and has posted robust financial results and solid operational and sales performance. We have hit €165M in EBITDA and significantly improved operating cash flows, and so are able to maintain our published forecasts. Alongside this, we continue to implement our CSR commitments within the Group. Time has shown that our past decisions were the right ones, and we are in a position to maintain our trajectory and look to the future with confidence. Our progression in the malting sector is producing very positive results: we are now running production operations on five continents. Axereal has become a world-class producer and processor of grain, and in particular malting barley. The industrial malting facilities we have recently added to our portfolio, taking the Group to a total of 27 malting plants, are proving to be a strategic success in terms of growth generated for the business.
Champs à renseigner
Texte
In addition, during the pandemic, our strong commercial presence in the southern hemisphere helped us weather the temporary fall in sales in Europe. Lastly, across both our divisions we have strengthened our close links with our customers and suppliers. We are working together and innovating to meet the challenges of the food industry transition, take a new approach to production and serve society's needs, without losing sight of the importance of delivering measurable results.

What are your objectives as regards sustainable development?

JFL: We want to make Axereal a catalyst for a shift towards sustainable agricultural models. That is the reasoning behind the channels that we are setting up to create more shared value between our customers and our farmers. We have accelerated this process over the last year: in 2021, we originated 700,000 tonnes of grain under channels. With this performance, we are on track to achieve our 2022 objective (1 million tonnes under channels). We are also leading the field in terms of channels, sustainable agriculture and reducing our environmental footprint, with our work to set up an ambitious carbon strategy. In addition, we are continuing our efforts to reduce the greenhouse emissions generated by our activities.
Champs à renseigner
Image standard
Citation
Our Group has not wavered from the sustainable growth trajectory it is following and has posted robust financial results and solid operational and sale performance.
Infos citation
Paul-Yves L'Anthoën, CEO
Texte
What actions are you putting in place as regards innovation and agronomy?

PYL: As pioneers of the agricultural and nutrition transition, we are constantly searching for new ways of adding value to our cooperative members' production that will make it a better fit for our customers' needs. Agronomy support, and in particular solutions to reduce the use of inputs, lies at the heart of our innovation and growth strategy. Our aim is to develop, in partnership with all our stakeholders, more sustainable and collaborative alternatives that set us apart. As regards food processing, we can use new technologies to connect more directly with consumers, both to share information about what life is really like in our sectors and to demonstrate that our practices are responsible, in the fields of animal breeding or processing channels for example. In addition, thanks to the mass adoption of digital tools, we have been able to boost the performance of our teams in the field and the quality of their work. These tools have produced measurable improvements in areas such as logistics and production flows, e-commerce platforms and staff working conditions.